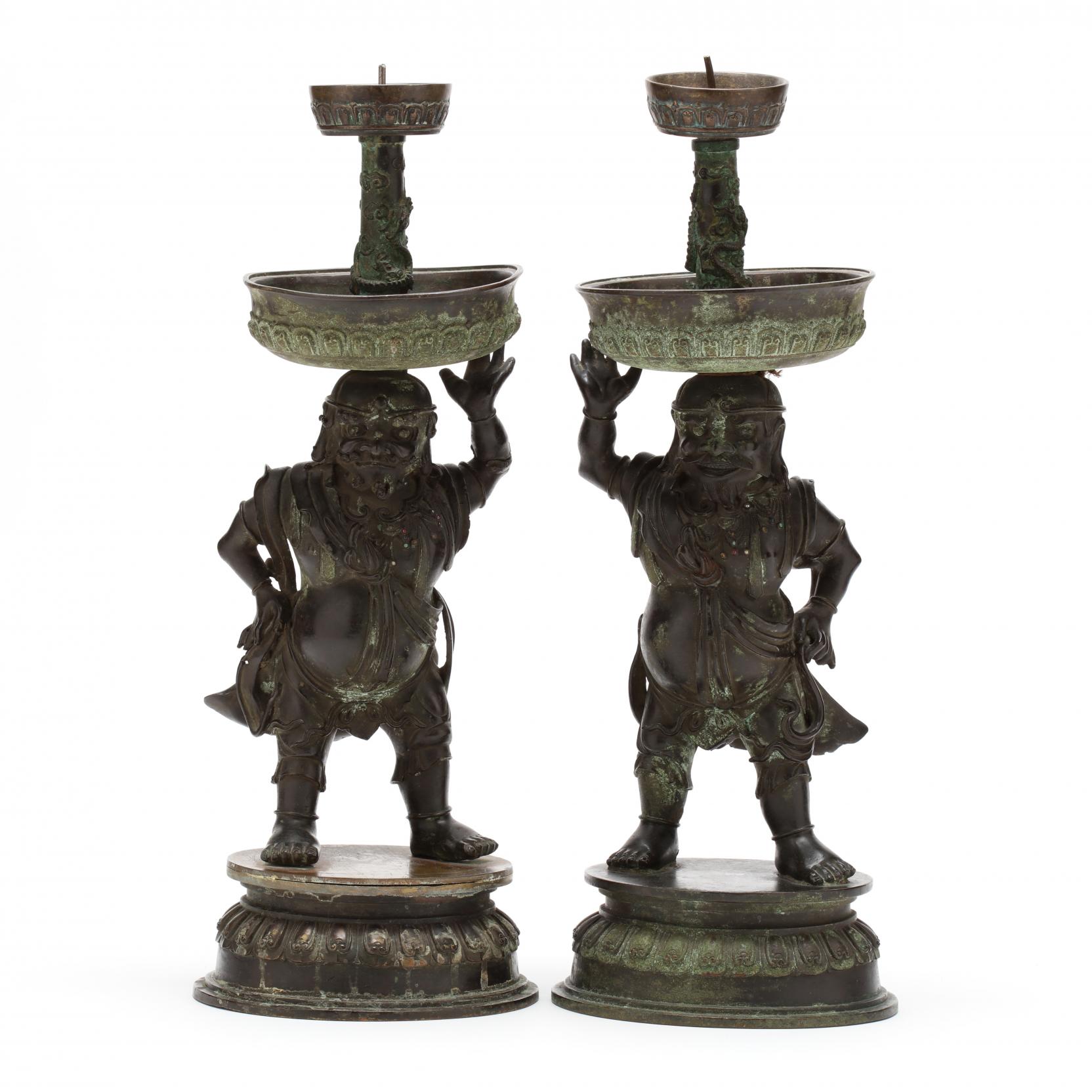 A Rare Pair of Chinese Bronze "Foreigner" Pricket Candlesticks
Lot Details & Additional Photographs
Late Ming dynasty or early Qing dynasty, 17th century, very finely cast "foreigner" figures standing barefoot with billowing scarves, large bellies, round cheeks, exaggerated eyes, and hairstyles, embellished with colored inlay glass beads around their neck, each figure holds up one muscular arm to support the drip tray for the candle, they stand on a round elevated base with lotus petals and ruyi design and repeated on the drip trays above, the neck of the candlesticks are decorated with dragons and swirling clouds.


From the Personal Collection of the Late Israeli Film Actress Daliah Lavi · Blessed with beauty and bursting with talent, the multi-lingual Lavi was truly an international citizen during the 1960s when she worked alongside such luminaries as Peter O'Toole, David Niven, and Woody Allen. One of her more memorable roles was in the James Bond spoof Casino Royale (1967). She also had a hugely successful career as a singer in Europe. In her personal life Ms. Lavi enjoyed a 40-year marriage, her four children, and numerous grandchildren. At the time of her passing, she was a resident of Asheville, North Carolina.
A fair amount of verdigris primarily to the upper portion of the sticks, one figure had been previously detached from the lotus base and has a later mounting to base, old repair to arm of one figure, one of the drip trays has been pushed slightly; some slight nicks and losses overall.