Back in the mid-1990's, a wine collector read an article about a California wine that was making waves. He was intrigued, so he called the phone number at the bottom of the page. Jean Phillips answered, and told him she didn't have any Screaming Eagle left to sell him that year, but she'd add him to the mailing list. The first vintage of Screaming Eagle our collector bought was the 1996, just the fourth vintage ever sold, and he's bought an allocation of the ultimate cult wine every year since.
In our
Rare & Fine Wine Auction
on December 5th, we offered an extensive selection of Screaming Eagle from this collector's cellar - 36 bottles from nine different vintages, in their original wood cases, as well as three vintages of Screaming Eagle's second label, Second Flight (now Flight).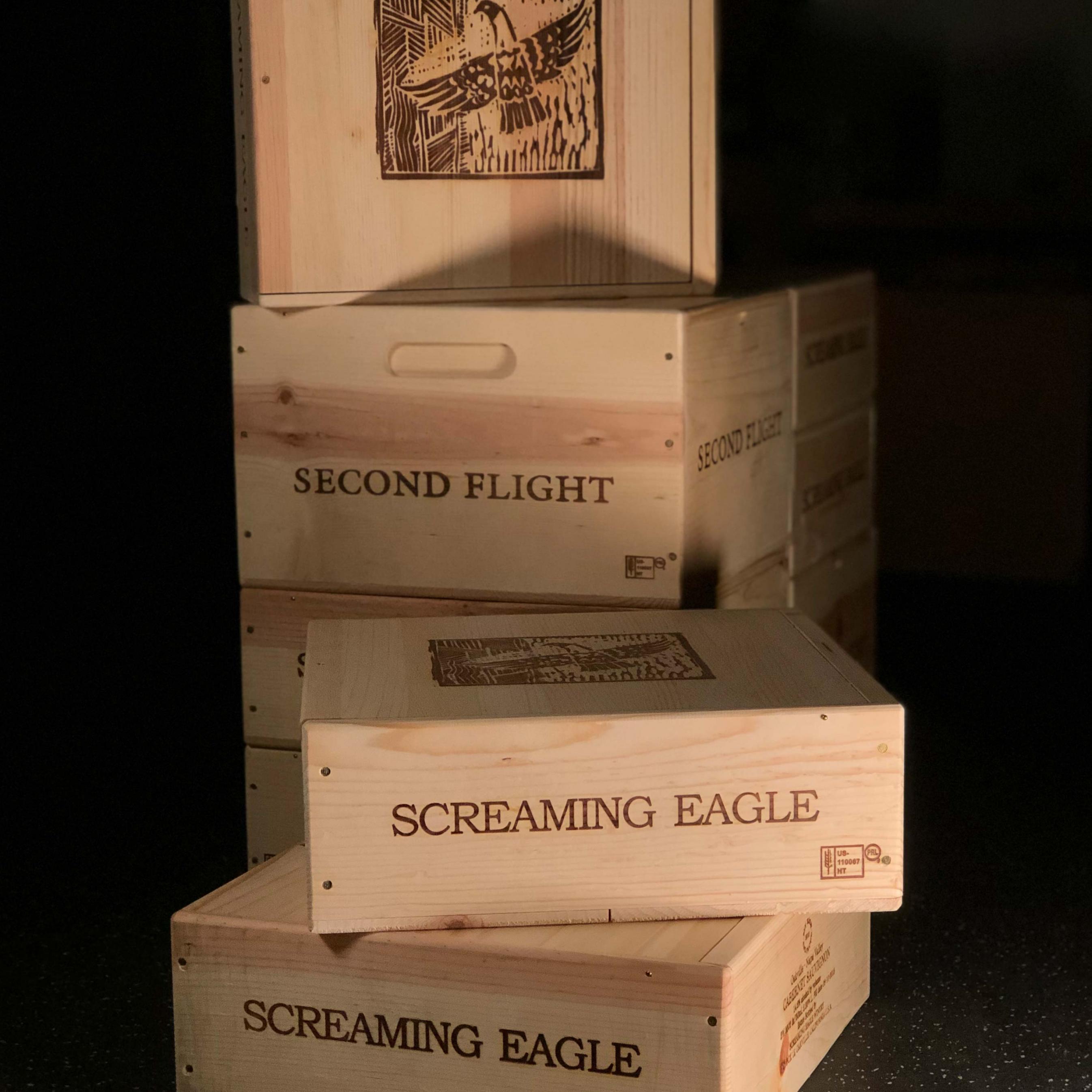 In 1986, Napa Valley real estate agent Jean Phillips bought a little plot of land in Oakville, replanted it from the existing mostly white varietals to cabernet and merlot, and had her friend Heidi Barrett, who was already a celebrated winemaker in her own right, make a barrel or two of wine from the grapes. In 1992, the duo put a label on the wine and released it to the public as Screaming Eagle. That first vintage earned 99 points from Robert Parker and became an instant cult.


In those early days of Screaming Eagle, the winery produced just over 200 cases - an impossibly small amount. But even though it took our consignor a year or two to get on the mailing list, at that time he was able to buy the wine for $100 a bottle. He remembers when, several years later, Jean Phillips sent a letter to her customers apologizing for doubling the price - the wine was selling for so much on the secondary market that the winery had to raise prices to close the gap even a bit.

Our consignor began collecting wine in the late 1970's as a hobby that he shared with his brother. Together they bought wine that would now headline auctions - cases of 1986 Mouton Rothschild and Chateau Margaux for $500, 1986 Pichon Lalande for $250 per case - less than a single bottle would sell for at auction now. They concentrated on Bordeaux and German rieslings, but as California producers began to make wines that could compete with the Europeans, they joined the lists to receive allocations from some of the early California stars, like Stony Hill and BV Private Reserve. Over the years they joined and then abandoned the lists of most of the prestige wineries, as the internet made cult wines more accessible at auction. But the one list our consignor says he will never drop off of is Screaming Eagle.

Our consignor says he never bought a bottle of wine he didn't intend to drink. He's been in the same tasting group since the 1980's, and between the group and his own collection, he's tasted every single vintage of Screaming Eagle, sometimes multiple vintages at a time. The chance to do a vertical tasting of a wine that is as scarce and expensive as Screaming Eagle is extremely hard to come by, and so our consignor has unique insight into the comparative profile of the various vintages. To his taste, Screaming Eagle ages superbly but also consistently drinks better young (under 6-7 years old) than most other California cult cabernets. Of the wines being offered in our December auction, he points to the '01 Screaming Eagle and the '08 Second Flight as standout years.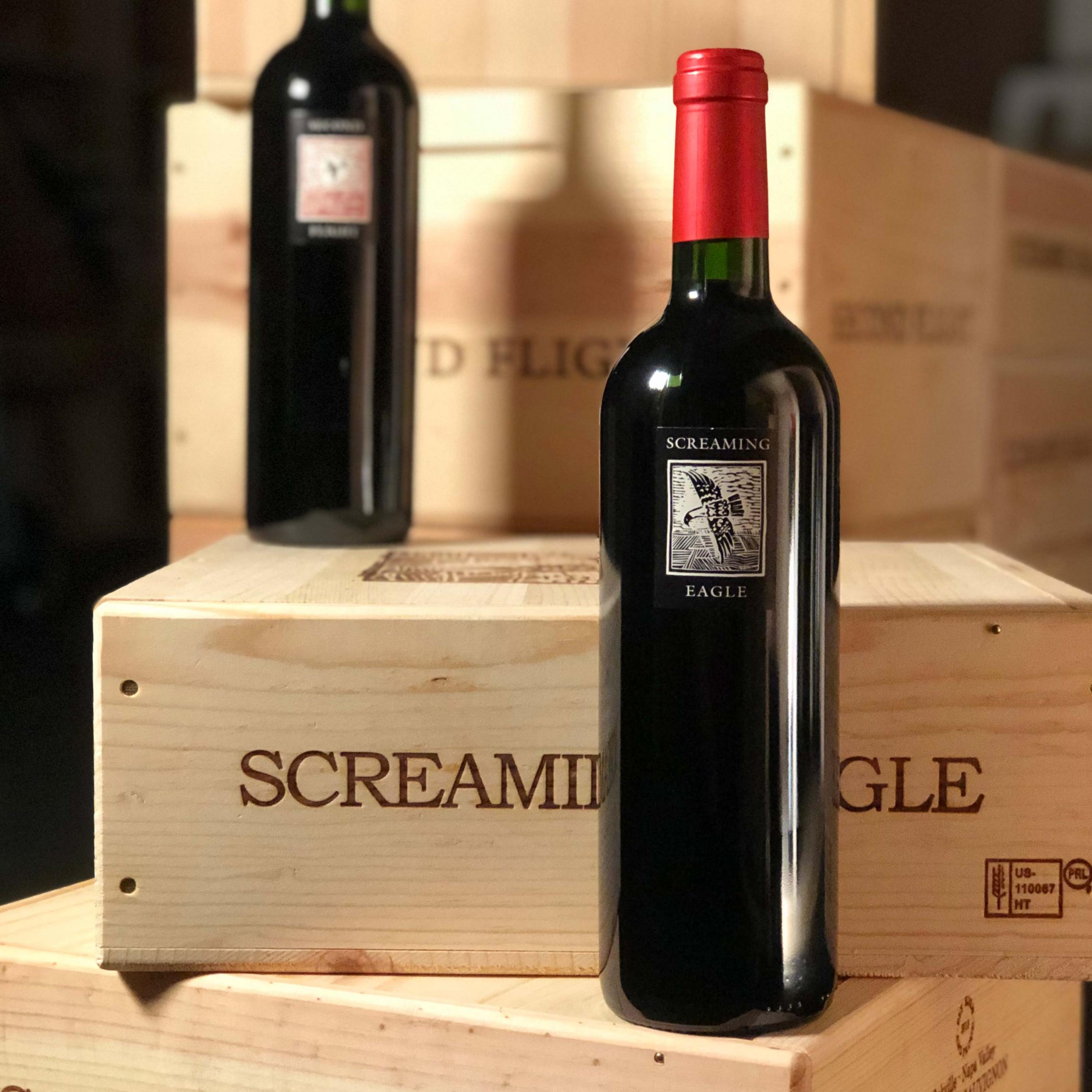 Changes at a winery with as much mystique as Screaming Eagle generally bring scrutiny, and that has certainly been the case since Phillips sold the winery to billionaire Stan Kroenke in 2006, and the winemaking reins were handed first to Andi Erickson and then to his assistant, wine wunderkind Nick Gislason. Under Kroenke's ownership, the winery's production has risen to 500 cases a year, the price of the wine continues to rise, and it now takes many years to get on the mailing list. Oenophiles love to dissect whether these changes have affected the profile of the actual juice in the bottle. But very few are likely to have the historical knowledge of Screaming Eagle that our consignor does, and he attests that it remains as excellent as ever, well-deserving of its reputation. To him, status is nothing if the wine doesn't taste good. And so by that standard, he will remain a Screaming Eagle enthusiast into the foreseeable future. As he puts it: "They're not going to quit making it, so I'm not going to quit buying it."
Below are lots of Screaming Eagle featured in the December 5th Fine Wine & Rare Spirits Auction. View the full results from the auction
here
.
Viewing 1 - 15 of 15 items.