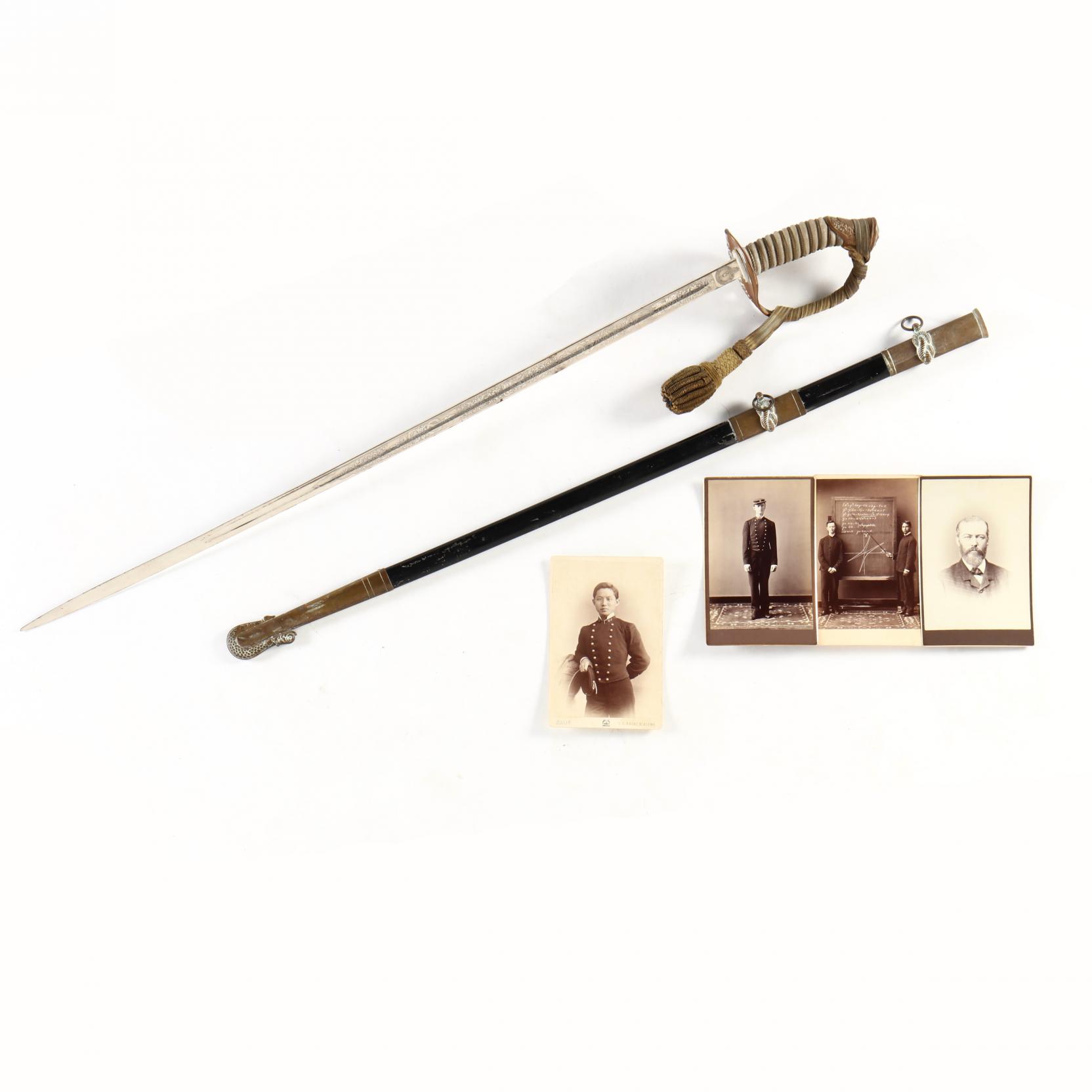 Naval Artifact Grouping From Dr. Joseph Janvier Woodward's Descendants
Lot Details & Additional Photographs
To include the following items: Cabinet card image, likely of Dr. J. J. Woodward (1833-1884); two cabinet cards showing J. J. Woodward II at Annapolis, one dated June 29, 1878; seven identified portraits of USNA Class of 1881 cadets, including Tasuku Serata of Japan; 13 unidentified portraits of cadets, Class of 1881; cabinet card showing three cadets cooking on a camp stove; cabinet card of a rear admiral, possibly academy superintendent George Balch; cabinet card of Harvard classics professor Evangelinus A. Sophocles; a book-form photograph box with gilt calf spine over green linen boards; 1924 USNA gold class ring set with bloodstone, the interior band engraved Joseph Janvier Woodward / United States Navy; Model 1852 U. S. Navy sword by Horstmann Co., Philadelphia, circa 1920s, its etched blade engraved J. J. Woodward, with scabbard (36 in. LOA) (the sword guard's dolphin quillon is broken off); Navy lieutenant's chapeau boxed with epaulettes and belt rig. A label inside the hat names Woodward and three of his ships: Pennsylvania, McDermut (262), Arkansas.


Though Joseph Janvier Woodward, M.D. (1833-1884) was a brilliant pioneer in the emerging field of photo-microscopy, he is best remembered for attending to the dying Abraham Lincoln. His son and namesake, J. J. Woodward II (1860-1906), was an 1881 graduate of the U. S. Naval Academy who would serve as a USN Constructor of ships, including the memorable U.S.S. Maine. This younger Woodward, in turn, sired a third J.J. Woodward who also pursued his own naval career, graduating from Annapolis in 1924.


Overall good estate condition.